Frequently asked questions
Can I custom a carrier?
---
Yes, we gladly accept custom request for Stork Carrier. We call it a 'Personalised Stork'. To read more on how to order one, please visit this link: Ordering a personalised SNUGGbaby item We can make a carrier according to your specification using available materials and expertise at our studio. Feel free to contact us for free consultation.
---
Will Stork be able to fit plus sized parents?
---
Stork waist straps can fit up to 50" waist size and also petite parent. Because the straps are adjustable, you can share the carrier between you.
---
I see a design that I like from SNUGGbaby's past instagram post, can I order the same?
---
SNUGGbaby replenish our fabric library almost every 3 months. Certain print can only be made into up to 6 units of Stork Carrier. There's a chance that we are no longer able to reproduce something you have seen on our instagram. You can check current available prints and colours in our fabric library by clicking the link below. The page is updated weekly. In case the print is no longer in our fabric library, do contact us for a specific request and we will try our best to look for a supplier. SNUGGbaby's Fabric Library
---
Can I breastfeed my baby in the carrier?
---
We recommend that you feed your baby in a calm manner i.e. sitting down at a calm area and breastfeed, however, we do understand the need to breastfeed on the go sometimes. At SNUGGstudio we will be able to teach you how to breastfeed while wearing the carrier. We are still in the midst of preparing a video to demonstrate this, so stay tuned. Please note that both mother and baby must be efficient in breastfeeding before attemting to breastfeed while using a carrier. Some practice is also required.
---
Can I use SNUGGbaby carrier with newborn?
---
Stork Baby Carrier (standard size) and U.Di Mesh Carrier are both suitable for newborn weighing 3kg and up. You will need an additional accessories called the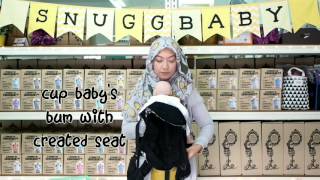 to adapt the carrier and make the base smaller. Cincher belt comes together with readymade Stork Baby Carrier. It is also sold separately at RM12.00 a piece.
---
What is the difference between Stork Baby Carrier and U.Di Mesh Carrier?
---
U.Di Mesh Carrier is created from Stork Baby Carrier to answer to requests for a more lightweight and airy carrier for outdoor activities. It also answers to parents requesting for a more budget friendly carrier.
---
How long does SNUGGbaby take to complete an order?
---
We take 1-3 weeks to complete a custom order.
---
Can I wear my baby in front-facing position?
---
Babies cannot be placed in a front-facing position in SNUGGbaby carriers. SNUGGbaby carriers are designed to be ergonomic. We don't design our carriers for front-facing position because this position is not ergonomic for baby and also the wearer. Baby will be dangling by the crotch and will be too esposed to external stimuli when placed in the front-facing position. Ideally baby should be seated with his knee to knee fully supported. Parent will have their center of gravity shifted further away from body making her feel fatique and muscle-aches. We recommend that baby is carried on the back using SNUGGbaby carriers when baby is older. Our opinion is this will be better for baby and parent.
---
---
Have other questions?
Please send us any queries so we can add to this page and this will greatly help other savvy customers like you ;)